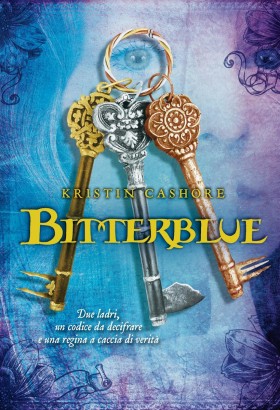 Bitterblue by Kristin Cashore 4 of 5 stars.

Welcome to a glorious realm
of mystery, magic, heroism and danger.

In a world where a small percentage of people have an extreme skill called a Grace, King Leck's Grace allowed him to tell lies that everyone believed.

When Bitterblue became queen at ten years old, she thought her father's murder meant the end of his violent, sociopathic influence.

She was wrong.

The intensely anticipated companion to the New York Times bestsellers Graceling and Fire is even more "rageful, exhilarating, wistful," and romantic. Now eighteen and believing her advisers are overprotecting her, Bitterblue begins sneaking outside the castle at night to walk the streets of her own city, disguised and alone--risking her life as well as her heart. (Book blurb)

At the age of ten, Bitterblue inherited a kingdom still swathed in the mental fog created by her father's Graced lies. She herself can barely untangle truth from fallacy in her own mind when she struggles to grasp the reality behind her childhood memories. Coddled by her advisers and imprisoned behind her desk and stacks and stacks of papers requiring her signature, Bitterblue spends eight years unaware of the darkness still lingering in her castle and the terrible poverty clinging to her beautiful streets.

Curiosity and a sharp mind finally lead Bitterblue to explore what really lies in Bitterblue City. When she does she is faced with one mystery after the other. She becomes a truth-seeker wrapped up in a web of deceit and intrigue as she begins to discover just how deep and lasting her father's reign was. Or who is still affected by his power. The only people Bitterblue can fully trust in her increasingly dangerous world are her old friends Katsa and Po and their companions.

Kristin Cashore is an exquisitely simple writer who seems to have a "Grace" for world-building. Bitterblue is yet another example of her beautiful, tight prose wrapped up in a forever thrumming, character-driven plot. Cashore fans will devour this book, with it's lovely cast including everyone's all-time favorites Katsa and Po.

I enjoyed reading Bitterblue very much. I always love Cashore's prose, and I particularly liked the cast of characters in this novel which is both a sequel to Graceling and a companion to Fire. We were able to see characters from both of those books as well as meet some new ones like the charming and piratical Saf. What did surprise me, however, was that I had a hard time loving Bitterblue. She's a lovely character, but--for me--she pales in comparison to characters like Katsa and Fire.

Other than my slight dissatisfaction with the protagonist, I loved this book. I continue to love the world of Cashore's novels as it keeps getting even more solid and real in my mind. I enjoy the gruesome realism used to depict the atrocities that happened in Leck's time, and I think that Cashore does a wonderful job drawing a line just before things become too descriptive.

The vibrant characters, the satisfying pace of the plot, the intrigue, and the glittering, fantastic world are sure to be loved by any and all fantasy fans. There is virtually no one who I wouldn't suggest Bitterblue or any of Kristin Cashore's other novels to.

To order Bitterblue from Amazon.com, please click here.