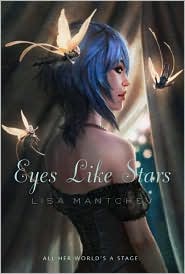 Eyes Like Stars by Lisa Mantchev 5 of 5 stars. (I would give it more if I could. =))

All her world's a stage.

Beatric Shakespeare Smith is not an actress, yet she lives in a theater.

She's not an orphan, but she has no parents.

She knows every part, but she has no lives of her own.

Until now:

Enter Stage Right
Nate: Dashing pirate. Will do anything to protect Bertie.

Cobweb, Moth, Mustardseed, and Peaseblossom: Four tiny and incredibly annoying fairies. Bertie's sidekicks.

Ariel: Seductive air spirit and Bertie's weakness. The symbol of impending doom.

Bertie: Our heroine.

Welcome to the Theatre Illuminata, where the characters of every play ever written can be found behind the curtain. They were born to play their parts, and are bound to the Theatre by The Book--an ancient and magical tome of scripts. Bertie is not one of them, but they are her family... and she is about to lose them all and the only home she has ever known.

This was an absolutely delightful book! The characters are classic, so many different personalities all in one place makes for a hilarious tale. This is a book that will have your side aching from laughing so hard. Something in it runs deeper, though and it does have its moments of seriousness. I wouldn't suggest starting it until you can read it all the way through, its terribly hard to put down. The only complaint I have is that the ending is a bit of a cliff-hanger. I can't wait to read the next one!! I would suggest this book to anyone, no matter what genre you enjoy, you will surely love it.