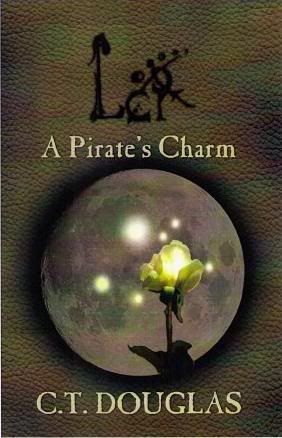 A Pirate's Charm by C.T. Douglas 5 of 5 stars.
First book in The Lore Trilogy.

When she flees Barbados in the late 1780s, the last thing Molly Bishop expects is to begin life anew with a criminal -- much less the infamous Captain Thomas Crowe. On the high seas, far from her old life and even farther from England and her Uncle Samuel's farm, Molly learns more than just the way of outcasts. Captain Crowe keeps secrets -- many secrets. His eyes are sometimes deep blue and sometimes yellow. Inhuman noises can be heard from his cabin on moonlit nights. Stranger still, Thomas possesses a ring crafted by Molly's father -- a man she thought to be long gone. Life on the fringes of civilization seems to offer something forbidden and exciting to Molly, and when Thomas's secrets are revealed, she is immersed in a world of fantasy and myth more real and much larger than she could have imagined. (Book blurb)

Captain Thomas Crowe is handsome, charming, and secretive, he also happens to be Molly's only chance of escaping a past filled with shadows. What Molly didn't know is that Thomas Crowe was a man who could make all of the stories her uncle told her as a child become real. As Molly finds her world inescapably tangled with that of Thomas she must learn to accept fiction as fact while facing an adventure more mystifying and dangerous than she ever dreamed possible.

A Pirate's Charm is a page-turning adventure full of mythical creatures, romance, and magic. The writing is dense and graceful as we follow the characters' unbelievable story. Humor lightens an otherwise dark plot full of surprising twists and unpredictable turns that will leave the reader on the edge of her seat.

Having been obsessed with the Pirates of the Caribbean movies for years (seriously- I could quote all three movies perfectly) and reading To Catch a Pirate by Jade Parker over twenty times before moving on to the more popular genre of paranormal fiction, I couldn't resist reading a book that had both pirates and werewolves. Now, this plot had the possibility to either be positively genius or horribly corny. Thankfully, it was the former.

The mythology C.T. Douglas uses in his debut novel is unique to the modern paranormal world but still carries a more traditional feel. He quite obviously put alot of effort into creating a thorough history for the creatures and magic in his book.

The characters were easily lovable. Molly was the more realistic out of the bunch, while Thomas Crowe was completely swoon-worthy and hilarious. The notorious captain's antics reminded me greatly of Jack Sparrow. The side characters in the novel were just as three-dimensional as the main characters, all adding a piece to the puzzle.

Overall, I think anyone would enjoy A Pirate's Charm. Whether you're into the paranormal scene of vampires and werewolves, a pirate lover, or just a fan of a good adventure novel, you can easily fall in love with this story. I, for one, can't wait to read the next book!

To order a copy of A Pirate's Charm by C.T. Douglas, please click here.