I know I haven't been doing my Tuesday's Adventure much, but I'm going to start. And being that March (Women's History Month) is almost over, I want to spend this week telling you about one hell of a woman. Nellie Bly.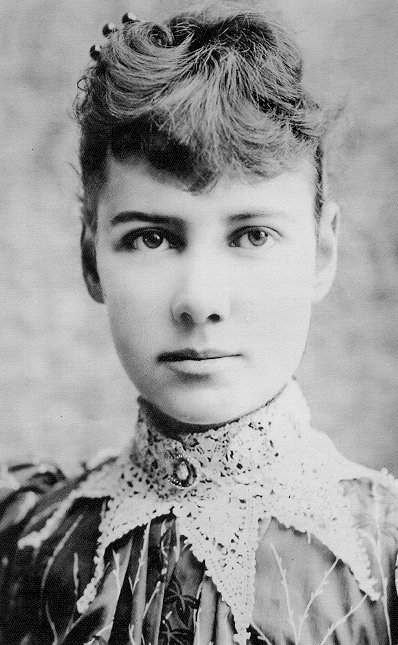 Nellie Bly May 5, 1862- January 27,1922


Nellie Bly was the pen name of a pioneer woman named Elizabeth Jane Cochran. Elizabeth was born to a wealthy former associate justice. Her father died when she was only six leaving nothing for her or her mother. In an attempt to secure wealth for her family Elizabeth's mother remarried three years later. Unfortunately, Elizabeth's stepfather was abusive and an alcoholic. Elizabeth, at 14, testified in court against him. Many people believe her passion for the women's rights movement stemmed from seeing how her stepfather treated her mother.

When Elizabeth was only 18 she sent a vehement, anonymous letter to the Pittsburgh Dispatch in response to a sexist article. The manager, George Madden, was impressed with her spunk and placed an add in the Sunday paper asking that she introduce herself. The very next day Elizabeth met George Madden and landed her first job as a journalist. Elizabeth then decided on the pen name Nellie Bly.

Nellie focused her attentions on women's rights, and she wasn't afraid to go under cover. She once posed as a sweat shop worker to expose the cruel condition women faced. She then moved on to Mexico where she wrote about the political corruption and economical hardship in the country. After a while her articles got her deported from Mexico.

Some of her other famous stunts include the time when she manged to get herself admitted into an insane asylum and was able to take pictures and write, from the inside, about the despicable way the patients were treated. As well as when she got herself arrested for theft in order to uncover the horrid way women prisoners were treated at the time.

But perhaps most famous of all was when little miss Bly was dared to try and beat the record of Around the World in 80 Days. What do you think Nellie Bly did? Not only did Nellie Bly accept this challenge, she beat it. Circumnavigating the world in 72 days while writing wonderful articles and taking beautiful pictures of her adventures along the way!

To find out more about Nellie Bly check out the book Nellie Bly: Daredevil, Reporter, Feminist by Brooke Kroeger or for children The Daring Nellie Bly: America's Star Reporter by Bonnie Christensen.